Upcoming Events
All in-person events have been suspended at this time due to COVID-19. Community health and safety are a top priority. We are monitoring the situation closely and will update this page as the situation continues to evolve.
---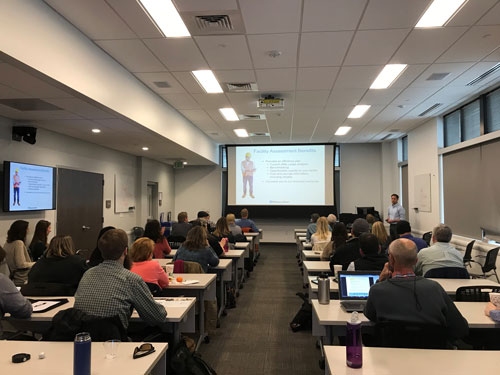 The Efficiency Works Business program provides technical training events on a wide range of topics (e.g., lighting, HVAC, office efficiency, solar). Upon request, Efficiency Works Business training events can count towards continuing education credits, and provide the opportunity to receive certificates of attendance. Technical training events are specifically designed for service providers, energy consultants, designers and facility managers. Together we can make it easier for local businesses to save money and conserve resources.
Past Training Materials:
Click Here for materials from past events.

Efficiency Works Business: Service provider feedback sessions
2021-02-26 - 2021-03-01
8:00 am - 5:00 pm
Meet one-on-one with an Efficiency Works Business team member to share your feedback and help us refine our programs. Review your organization's 2021 energy savings metrics so far, share any challenges you may be having and discuss goals for 2022. After registering for this event, an Efficiency Works team member will reach out to schedule (more…)
Water efficiency - use the rebates
June 2021
Stop flushing money down the drain. Efficiency Works Business offers water efficiency incentives to replace wasteful water devices. Learn about new ways to market water rebates as an addition to efficiency program offerings.
Lunch and learn with Efficiency Works staff - for facilities and maintenance staff
July/August 2021
Having difficulty finding time for your facilities and maintenance staff to join an Efficiency Works training? Schedule a customized lunch-and-learn training for your facilities and maintenance staff, tradesmen and engineers. Learn about general Efficiency Works Business programs or get specific with energy saving opportunities in your industry.
Energy-efficient electrification - components for commercial facilities, heat pump water heaters
September/October 2021
Commercial properties are adapting to new ways of business and there is no better time to think about upgrading your business. Learn about the latest technology and how to become more energy efficient through electrification in the commercial sector.
Service provider social and awards
November 2021
Are you finally ready to be back to "normal?" Meet the Efficiency Works team and reminisce on a wild couple of years. The Efficiency Works team will share project successes and highlights from 2021, present the Efficiency Works Business Service Provider Contributor Awards and get a sneak peek of 2022.