Assess your home's efficiency
---
There are many benefits to completing an efficiency assessment at your home. Our energy advisors can help identify inefficiencies in your home, explain benefits that result from efficiency upgrades, help review project bids and plan future projects. Efficiency Works offers three ways to learn more about your home through our Virtual Advising, Home Checkup and Streamlined assessments. Projects must be completed by an EW service provider to be eligible for rebates. A list of providers can be found here.
Homeowners are required to have an efficiency assessment completed to be eligible for windows and insulation and air sealing rebates. In-person assessments are only $60 (a $600 value).
Interested in scheduling your home efficiency assessment?
Rentals
If you own a building with between 1-4 residential rental units, please email Homes@EfficiencyWorks.org to start the enrollment process.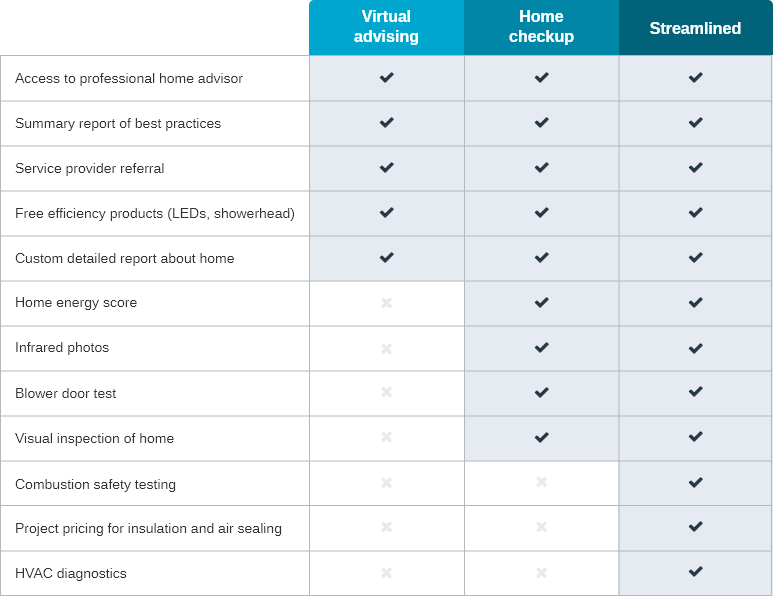 Virtual Advising
---
Virtual Advising allows customers to learn more about their homes and connect with one of our experienced energy advisors. After providing photos and basic information about your home, take advantage of our advisors' knowledge of efficiency for up to one hour during a remote advising session. In return, you'll receive a summary report containing a variety of suggestions to improve the efficiency of your home. If you decide to pursue a project, your advisor will walk you through the process of soliciting and reviewing service provider bids and collaborate with the service provider to complete your project.
Cost: None
Time: Up to 1 hour
Home Checkup
---
Home Checkup is our classic energy assessment. An advisor visits your home to perform a visual inspection, takes specific measurements and performs diagnostic testing to determine your home's efficiency. Your advisor delivers a customized detailed report of the findings and will review the report with you and answer any questions you may have. Your advisor can also help connect you to one of our service providers when choosing to move forward with a project.
Cost: $60
Time: 2 hours
Streamlined
---
Our Streamlined assessment is our most comprehensive assessment. In addition to the services in our Home Checkup assessment, you receive standardized pricing for insulation and air sealing projects, and direct referral to a service provider to perform any predetermined upgrades. Your energy advisor acts as a liaison throughout the entire process. This assessment eliminates the need to collect multiple bids for a project – our qualified advisors will provide best practice recommendations for any upgrade projects you may need. The Streamlined Assessment is perfect for customers who may have comfort issues in their home.
Cost: $60
Time: 4 hours
The listed costs of $60 is for all-electric homes. Properties with natural gas service by Xcel Energy may complete the Xcel Energy rebate forms to achieve the final cost of $60. 
Efficiency Works advising services are provided by ARUS Consulting. 

---
Questions?
Contact us at
877-981-1888